THE HAUNTING OF HECK HOUSE — IT'S A LAUNCH PARTY!!!
AND YOU ARE INVITED!!
Come take your Halloween costume out for a test run and help us celebrate the launch of the second book in the Wiggins Weird Series at our Haunted House Costume Party happening at the beautiful An Sibin (pronounced AHN SHE-BEEN) Pub & Restaurant!
Tricks, Treats, Popcorn, Prizes, Food, Drink, Reading, Live Music, Book Signing, Ghost Busting… one HECK of a Good Time!
All ages welcome!
Wear a costume for a chance to win cool stuff!
(No pressure – all you non-costumed folk are welcome too!)
Cheryl, Tweed, Pilot and Artie look forward to seeing you there!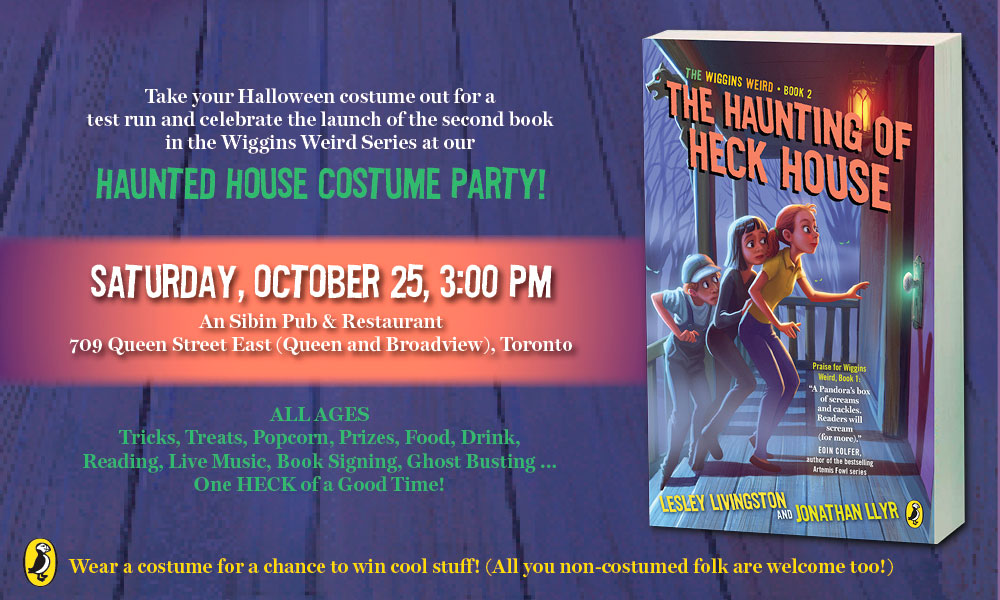 "CAMERAS ROLLING…"
"AAAAAAND…"
"ACTION!!"
Monster-mashers and babysitters extraordinaire Cheryl and Tweed are back, along with their friends Pilot and Artie – and they're in trouble again!
This time, they're tangled up in some ghostly goings-on: solving the mystery that lies behind the creepy doors of Hecklestone Manor, Wiggins Cross's only genuine haunted house. The gang must face off against a whole new host of horrors, including gargoyles, possessed drive-in movie speakers, and a gaggle of ghoulish ghosts.
At the same time, Cheryl and Tweed must defend their babysitting turf against the rival sitters in the town – in a contest of wits, guts and sitter-fu!
Leave a Reply
You must be logged in to post a comment.